Ahh, the golden days of horror comics.  The bad guys (or girls), the gruesome but oh-so-satisfying comeuppance, and the artwork that had the Comics Code Authority all but put 'em out of business.  But wait; some of those groovy stories are coming back to glorious life, in issues you can hold in your greedy little hands.  Hello Haunted Horror, a new series coming to stores tomorrow.  Wanna know more?  Yeah you do.
Haunted Horror promises to give readers a look at old-school stories exactly as they were back in the day.  Issue #1 has oldies but goodies from Weird Terror #1, This Magazine is Haunted #4, Baffling Mysteries #6, Black Magic #31, Intrigue #1 and Crime Detector #5.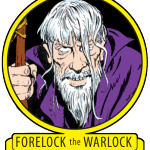 Plus, a brand-new special host to add to your collection of favorites: Forelock the Warlock.  Cute and cuddly he ain't, but he's a fantastic holla-back to the Crypt Keeper, the Old Witch and the Vault-Keeper.  Time will tell if there are more storytellers in Haunted Horror…if we live to see 'em!  *bwahahahah*
Haunted Horror comes to a comic book store near you Wednesday October 10th.  If you can't wait 'til then — and really, who could? — check out a sneak peek at The Horrors of it All.
And remember kiddies; all the cool kids read banned comics!