Love him or hate him, Adam Sandler has come a long way from his small part on The Cosby Show as Theo's friend. He has gone on to make massive hits as well as movies that seemed that they were made just to be made. But as hard as it is to believe, Grown Ups 2 is the first sequel he's been involved with for any of his movies and one that shows that Sandler cares about the characters.
The movie is a look into a day of the lives of these friends as they are preparing for the Summer with the last day of school for the kids. It's a non-stop look as the families grow along with friendships that bridge between generations of family. So how did it fare? You know the drill….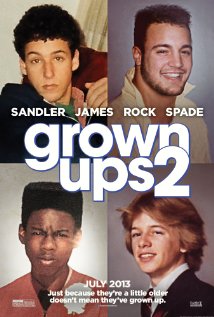 Grade: 3 our of 5Grown Ups 2 manages to deliver laughs and is actually funnier then the first. It's been 10 months since Lenny moved his family back to his home town in Connecticut to bring his family closer to his friends and their families. This has allowed the kids to leave the California/Hollywood life-style and really become kids and grow-up in a more connected community. On the last day of school and the start of the Summer,  we get an entire year of events coming to a head – bullies, first dates, moving on to a new grade, pranks on the school staff. We also get an entire college Frat House having a turf war with the townies over a lake and who gets to swim in it. So much happens in one day that we have to ask how do we make it all come together? And we answer with have an 80's themed party and a Braveheart style fight between the townies and the Frat boys.
If there was one issue I had with the movie it would be that there are new characters that are introduced in a way that made me feel that we missed a movie between Grown Ups and Grown Ups 2. Don't get me wrong, I liked seeing that this is a small town where everyone knows everyone and all the adults knew each other from when they were children. I just had a problem in that we were expected to know who these characters are and understand the complicated Crash-like relationship between them.
Starring the likes of Adam Sandler, Kevin James, Chris, Rock, David Space, Maya Rudolph, Selma Hayek, Maria Bello, Steve Buscemi, Colin Quinn, Tim Meadows with appearance by John Lovits, Shaquille O'Neal, Andy Sandberg, Dan Patrick, and Stone Cold Steve Austin.
Rated PG-13 with an amazing run time of 101 minutes, Grown Ups 2 delivers some Summer fun that the whole family can enjoy.