TwitReview: Spider-Man: Homecoming is the next chapter in the expansive Marvel Cinematic Universe. Great fun! No "origins" told. Surprises for everyone! 4 stars!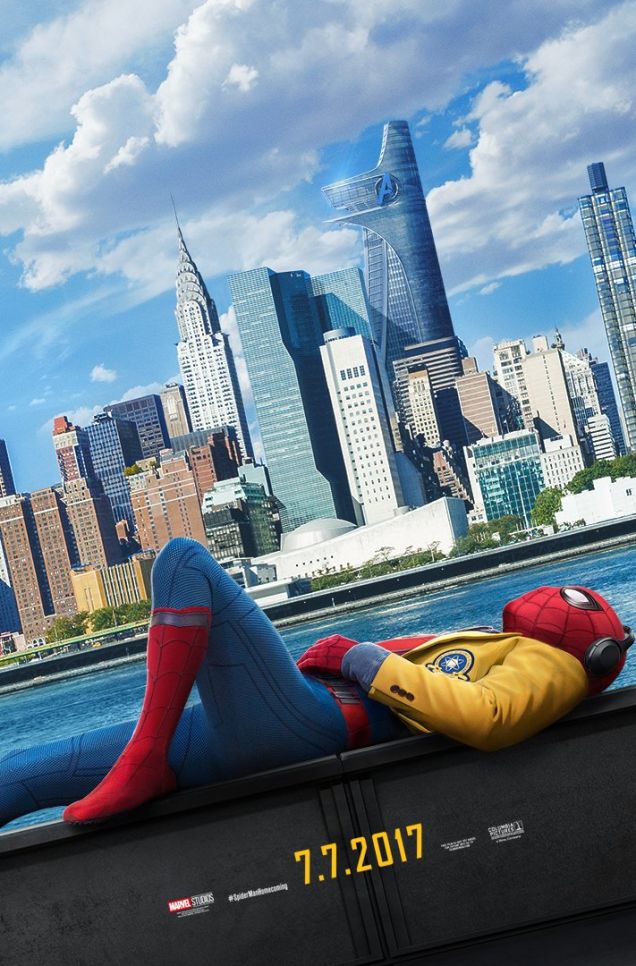 Full review after break
Tom Holland continues his adventures as Perter Parker/Spider-Man in the next chapter of the expanding Marvel Cinematic Universe.
Picking up after Spider-Man's appearance in Captain America: Civil War, we watch as Peter Parker lives life as a 15-year-old high school student by day and the Spider-Man by night. Peter wants to be an Avenger and tries to prove to Tony Stark (played by the always fun to watch Robert Downey, Jr) that the time is now. Tony places Happy Hogan (John Favreau) in charge of Peter and keeping an eye on him to ensure that our hero-in-training can grow into an Avenger.
Spider-Man: Homecoming does what the five other Spider-Man movies before it had not done….it allowed Spider-Man to be a kid in figurative and literal terms. We get to enjoy Peter/Spider-Man going through growing pains in trying to be a typical high school student doing school activities while also trying to be a hero. There are a lot of fun moments as we watch Peter learn his new suite that was created by Tony Stark. Interactions with the suit's AI (alla Tony and his Iron Man suits) allow us to get an inside look into Peter and what he feels regarding his life and his love of Liz (Laura Harrier).  Giving Spider-Man a suite created by Tony Stark was a bold move and one that makes sense inside the MCU.
Peter's home life is also shown differently then we've seen before (outside of Captain America: Civil War) with him living in an apartment in Queens with his Aunt May (Marisa Tomei) as to the normal status quo of living in a single family home. May is a lot younger then the comic and first movie iteration and it is displayed not only in how Tony Stark flirted with her in Civial War, but also how others in this movie flirt with her. It is never explained how long it has been since Uncle Ben (not mentioned or shown in any form) passed (was he even murdered in the MCU??) away but it still haunts May as alluded to. 
So where is the fun? It's all over the place. The first four minutes (which were recently released online prior to the movie's release) show us Peter as he is being taken from New York to Berlin in a film/video diary that he is creating. We get to see Peter and Happy interacting along with Peter being super excited about getting the Tony Stark created Spider-Man suite (as seen in Civil War and most of this movie). We get some "behind the scenes" footage of the Berlin airport battle from Peter's point of view. We get to see Tony dropping Peter off at home and giving him the "stay low to the ground" speech. All of this delivers a great prelude/recap to what the Tony/Peter relationship will be and become.
The bank heist sequence as shown in the previews is a great showcase of finally seeing a Spider-Man talk smack to the bad-guys while stopping the bad-guys. The AI suite brings Spider-Man to a new edge in terms of "kill mode" and "interrogation" mode – two modes that he thinks are a bit overkill for his personality but also show how insane characters like Deadpool and Batman are. Peter's best friend Ned (Jacob Batalon) isn't a one-sided character as most "sidekicks" are portrayed but is one that helps Peter grow as Spider-Man. Let's say that this "guy in the chair" steals the show during the last act.
Finally we get a villain that isn't the Green Goblin. I get that in the comics this is Peter's arch-nemesis but in the movies we've seen this character too many times. We get the Vulture/Adrian Toomes (played by Michael Keaton) and he has a back-store that dates back to the first Avengers movie. His hatred toward Tony Stark and his newly created and government backed (and never stated somehow related to SHIELD) group, Damage Control. Damage Control is headed by Director Hoag (Tyne Daly) and their purpose is to clean up after any major battles and collect/store/keep away the technology that may be left behind. They are who cleaned up after the events of The Avengers, Captain America: the Winter Soldier, The Avengers: Age of Ultron and they are who Adrian Toomes has an issue with. His group was originally going to cleanup New York after the Avengers saved the day until Tony Stark cut a deal with the United States Government to create Damage Control. This job taxed Toomes' money and resources and would have cost him his business if it wasn't for having some trash still on-hand that hadn't been turned over to the government. This trash was scavenged from the Chitari invasion and allowed Toomes to create high tech weapons to sell on the black market. A market that allowed him to keep the life him and his family have enjoyed prior to Damage Control coming onto the scene.
Spider-Man: Homecoming shows us a Spider-Man with heart and humor. It allows us to experience what it is to be 15 and have great powers and great responsibility. With just over two hours of run time you will enjoy it all from the start till the finish and PLEASE stay till the end credit scene for a good laugh.