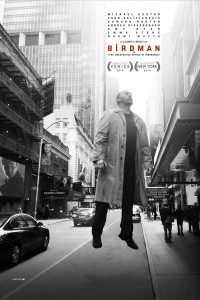 Twitview: A beautiful mess, with unanswered questions and characters in all the shades of grey. But Keaton is magnetic. B+
Michael Keaton was a heckuva great Batman.  And then he kind of dropped off the face of the blockbuster earth.  So of course the synopsis of Birdman — actor who played a famous superhero tries for relevancy in his senior years — got folks talking when Keaton signed on.  And though I have to admit that was a prime reason for me signing up for this screening, once the film started rolling, I was sucked into the life of Keaton's Riggan Thompson, washed-up Hollywood trivia tidbit turned Broadway wannabe.  Most of that is thanks to Keaton's amazing performance that ditches every scrap of dignity, but director Alejandro González Iñárritu (21 Grams) deserves praise as well.
Riggan Thompson is a washed-up former superhero superstar, but perhaps there's more to that portrayal than anyone realized.  When he's alone he levitates, moves things with his mind, and even soars through the air.  But is that real, or in his heartbroken, world-weary imagination?  I love that Birdman flipped my expectations not once, but several times throughout the story.  I thought I'd had the ending nailed down early on, but things sway and melt away under Iñárritu's gentle guidance.  Something else that also changes throughout the film is New York City itself; it's a glorious greasepaint wonderland, then it's a gritty, ugly, bleak wasteland.  It's a small shop filled with fairy lights, and then it's a cold world where nobody wants to do anything but look at it through the lens of their Instagram account.  Cinematographer Emmanuel Lubezki (Oscar winner for last year's Gravity) manages to show all the sides of The City That Never Sleeps, and they don't all add up to a picture postcard.  It's the most "real" cinematic interpretation I've ever seen of that city, and I'm betting Lubezki will get another nod come Academy time.