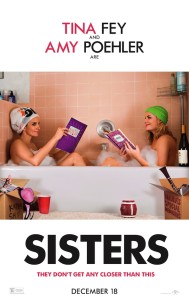 In Sisters, Fey and Poehler show that just because you've got a few decades (or more) under your belt, you're not necessarily a grown-up.  And while that could be a downer of a storyline, they keep it light and focus on the bonds you keep and the ones you've broken along the way.
A goofy, borderline tacky, gloriously out-there screenplay by Paula Pell turns Sisters into a glorious mash of The Big Chill, Superbad and every "this one goes to 11" house party you ever went to.  Add the light Pitch Perfect touch of director Jason Moore, and Sisters becomes Generation X slapstick in all its raunchy glory.
Poehler (Maura; kinda strange but kindhearted) and Fey (Kate; kinda slutty but fiercely loyal) riff off each other like you'd expect them to.  But they've surrounded themselves with other talented comedians, including Maya Rudolph (the girl who was never invited to anything), Rachel Dratch (the woman who has food as her FB profile pic), Samantha Bee (the wild child who settled down…kinda), Bobby Moynihan (the one with all the stupid, stupid jokes) and John Leguizamo (the big mistake guy who keeps hoping for a comeback.)  Ike Barinholtz (The Mindy Project) plays Maura's love interest with equal parts sweetness and serious comedic chops.  But he's a MadTV alum, so that's kind of a given.  Speaking of comedic chops being kind of a given, Kate McKinnon plays Sam, a fellow alum and Ellis Island house party regular from back in the day.  Even the lines McKinnon downplays are a hoot — man am I glad this woman is getting the recognition she so rightly deserves.
But what works best here are the truths Fey and Poehler show us.  Parents of grown-ups can get sick and tired of their failing-at-adulting kids.  Children of fully grown but still infantile adults are saddled with more maturity than they want, or can handle.  Parties for folks over 40 are all about getting a babysitter, talking about health stuff, and putting your damn feet up.  But when it comes right down to it, everyone wants just one more shot at Party Time.  When that happens, Sisters shows us that friendships can be mended, love connections made, and maybe even a little bit of growing up can make the scene…but cleanup the next day is gonna be hor-ren-dous.