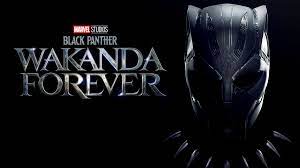 Welcome back to Wakanda was all I thought walking into the screening. Once the lights went down, however, I knew we were not in for a happy ride.
This movie was not an easy one to make due to the circumstances behind the scenes. The original movie had to be scrapped due to Chadwick Boseman's untimely death. Even with all the obstacles in front of him, Ryan Coogler made a movie that not only dealt with grief but paid their former star a great deal of homage.
The movie takes place a year after T'Challa's death. Wakanda is grieving and lost. They try to get back to normalcy, such as tracking down Vibranium that has been taken from Wakanda. Instead, they are met with another obstacle, Namor, who is also trying to hinder the outside world from realizing who they are. Namor though, is seen as a deity. His name to his people is Kukulkan, loosely meaning "Amazing Serpent".
The movie is long, clocking in at 2 hours and 41 minutes. I did not look at my watch once, however there were times where it dragged. The film's a little messy, and does not flow the way the first one did. There is a lot to like about the movie, starting with the performances. Letitia Wright and Angela Bassett bring their "A" game, taking on the hardest scenes to film. You can see how much they miss and loved Chadwick Boseman. Their raw emotion comes through in their performances. Winston Duke does his usual great things with M'Baku. Newcomer Tenoch Huerta is a solid addition to the ever-growing actors in the MCU and a great choice to play Namor.
BPWF takes your emotions on a roller coaster ride. It is heavy at times but needs to be heavy because of Chad's death. You know that going into it. Although a solid entry into the MCU, it does not feel as complete and as fluid as the original but considering the circumstances I think Mr. Coogler and the crew did the best they could, and it shows.
3 out of 4 stars (Marc Moses)