Like dinosaurs?  Like free stuff?  How about game show prize wheels filled with swag?  Well you came to the right place!  We're promoting the gargantuan dino follow up to smash 'Jurassic World.'  Check out the film details, and the how to meet us on the scene to score your set of admit two's and maybe more! #staygeeky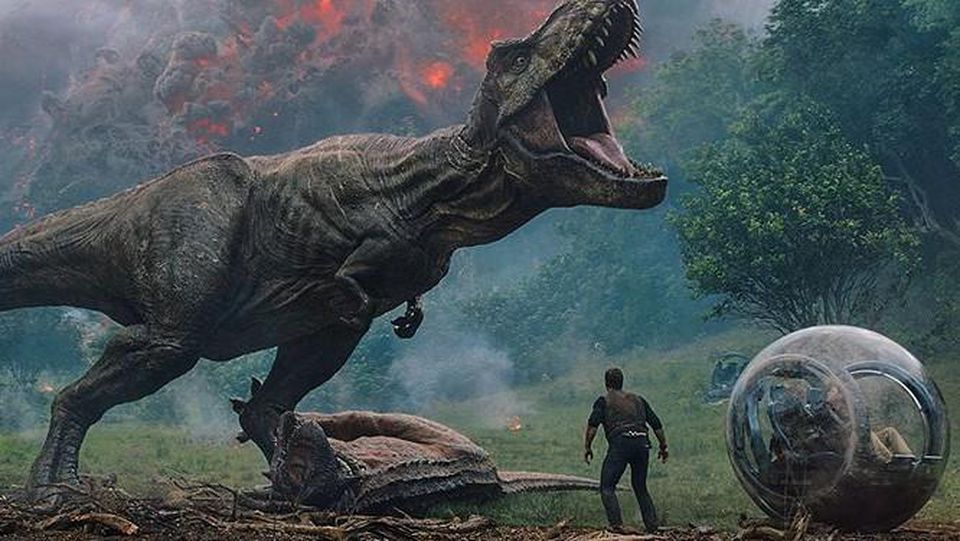 It's been four years since theme park and luxury resort Jurassic World was destroyed by dinosaurs out of containment.  Isla Nublar now sits abandoned by humans while the surviving dinosaurs fend for themselves in the jungles.
When the island's dormant volcano begins roaring to life, Owen (Chris Pratt) and Claire (Bryce Dallas Howard) mount a campaign to rescue the remaining dinosaurs from this extinction-level event.  Owen is driven to find Blue, his lead raptor who's still missing in the wild, and Claire has grown a respect for these creatures she now makes her mission.  Arriving on the unstable island as lava begins raining down, their expedition uncovers a conspiracy that could return our entire planet to a perilous order not seen since prehistoric times.
With all of the wonder, adventure and thrills synonymous with one of the most popular and successful series in cinema history, this all-new motion-picture event sees the return of favorite characters and dinosaurs—along with new breeds more awe-inspiring and terrifying than ever before.  Welcome to Jurassic World: Fallen Kingdom.
Jurassic World: Fallen Kingdom opens nationwide on FRI 06.22.18
Geek For E On The Scene: Details
Wanna score some of these goodies?  All you have to do is meet us on the scene near one of the coolest dino exhibits in Baltimore at Port Discovery, Dinosaurs: Land Of Fire & Ice!  We'll be there with a table, and our prize wheel of destiny.  All GeekForE followers are invited to spin the wheel to win.  If you're lucky, you'll spin the JACKPOT and win the big boy! (Hat, T-Shirt and tickets for 2 to the Baltimore screening).
WHERE: Check the image posted here, we'll be just outside the entryway to Port Discovery in Baltimore (35 Market Place, Baltimore 21202
TIME: 11AM-1PM (if bad weather, we will relocate to 8 Market Place which is under an awning)
FINE PRINT RULES:
We reserve the right to limit participation (please form and respect the line)
The prize wheel and prizes are only in effect while supplies last
The prize wheel (see pictures) is color coded and we will have a print out of what each color wins
All spins on the prize wheel must be full spins, it must go around completely at least once
Items you could win off the wheel: T-Shirt, Hat, Keychain, Dino figurine, large posters, tickets to the movie (admit 2), or mini-buttons. (see image below)
Free mini poster of the movie to the first 25 spinners (regardless of what prize you spin and win)
The Baltimore screening of the film is on TUE 06.19.18 @ 7:30PM, AMC Columbia Mall)