Film Synopsis: Anthony is 80, mischievous, living defiantly alone and rejecting the caretakers that his daughter, Anne, encouragingly introduces. Yet help is also becoming a necessity for Anne; she can't make daily visits anymore and Anthony's grip on reality is unravelling. As we experience the ebb and flow of his memory, how much of his own identity and past can Anthony cling to? How does Anne cope as she grieves the loss of her father, while he still lives and breathes before her? THE FATHER warmly embraces real life, through loving reflection upon the vibrant human condition; heart-breaking and uncompromisingly poignant – a movie that nestles in the truth of our own lives.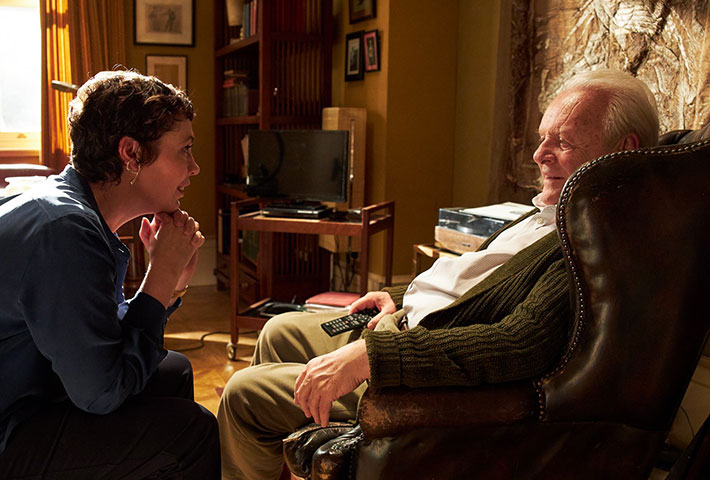 Geek For E Review (Matthew Snider)
This movie is not for the faint of heart nor the weak-minded. What unfolds is a "memento-esque" deep dive into dementia and how it impacts not only the person diagnosed with it but everyone around them as well.

Sir Anthony Hopkins puts in a spectacular performance as Anthony, an aging dad who seems to be quickly on the decline with his understanding of reality in his truly hard-to-watch battle with dementia.

The film takes place mostly in Anthony's flat of over 30 years, or so it seems. As his mind unravels we are invited into what he sees. Some of which makes sense, yet a lot of which doesn't. We meet Anne, his daughter and caretaker, and a few other outside characters but it mainly focuses on Anthony and Anne and their ups and downs in navigating this tumultuous relationship and disease impacting The Father.

Not only do the performances pull on your heartstrings, but it also brings you along for a ride on a roller coaster of emotions which is hard to swallow. You see so many sides of this disease ravage both Anthony and Anne that you are left exhausted and confused by the end of the film.

Directed by Florian Zeller, and lead by Sir Anthony Hopkins, Olivia Colman, Mark Gatiss, and many more familiar faces you can't help but feel for these people, their story, their pains, and figuring out what the next right thing is for each of them.

What plagues this film is the direction giving by Florian. It follows the mind (or lack thereof) of Anthony which takes away from a fluid and linear timeline/story. Due to this "memento-esque" storytelling sometimes you lose the characters and their storyline amongst trying to figure out what the hell is going on.

While this technique is used to show the sheer confusion of dementia itself, it takes away from the storyline and the pain suffered by all a little too much.

The Father is a behind-the-scenes look into this degrading, frustrating, and life-altering disease that impacts more than 6 million Americans, and more than 50 million worldwide.

It is a film that brings to the light family, and the senior years, and all that can come with it. The Father brings to the screen a story that is almost always behind closed doors, a story that asks you to suffer alongside its characters, to feel for them, to want to help, and to just sit and hold them.

The Father is a film I recommend you to see, albeit with a box of tissues nearby.