TwitReview: Ant-Man & the Wasp is a fun ride in the MCU. Lots of action, laughs, and a post-credit sequence that will leave you wanting more! Go see it!! 5 stars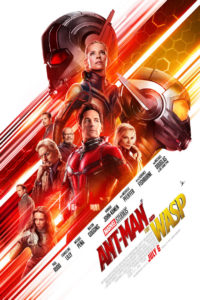 Welcome to the next MCU installment, Ant-Man & the Wasp. The first question asked is "when does this movie take place in the timeline?" and that answer is, and this is NOT a spoiler, two years after the events of Captain America: Civil War. Now you know. Onto the review.
Staring
Paul Rudd as Scott Lang / Ant-Man
Evangeline Lilly as Hope van Dyne / Wasp
Michael Douglas as Hank Pym / the original Ant-Man
Michelle Pfeiffer as Janet van Dyne / the original Wasp
Michael Peña as Luis
Tip "T.I." Harris as Dave
David Dastmalchian as Kurt
Walton Goggins as Sonny Burch
Hannah John-Kamen as Ava Starr / Ghost
Laurence Fishburne as Bill Foster
Randal Park as FBI agent Jimmy Woo
The Good
The story picks up where the first movie ended with Hank Pym (Douglas) telling Hope van Dyne (Lilly) about the missing Janet van Dyne (Pfeiffer) and the last mission as noted in the first movie. Their goal is to find Janet in the Quantum Realm and bring her back.
This jumps us to now, two years after the events of Captain America: Civil War where Scott Lang (Rudd) is in house arrest due to his actions in Germany. He is living the life of sleeping most of the day, learning sleight of hand card tricks via online videos, and playing his electric drum. He also gets his daughter Cassie (Abby Ryder Fortson) on the weekends as he shares custody with his ex-wife and her husband (Judy Greer and Bobby Cannavale). Scott knows if he keeps his low and under the radar of the FBI, he'll be free soon and then can spend more time with his daughter.
The Ghost (John-Kamen) was a great character to bring into the film. This character is usually used in trying to steal technology and perverting technology into their control. Using the Ghost as the daughter of Pym's former colleague at SHIELD, Elihas Starr (known as Egg Head in the comics; Michael Cerveris) ties the Ghost's plot into that of Pym and the Quantum Relm. This brings us Bill Foster (Fishburne) as another of Pym's ex-colleagues from SHIELD and how he and Ava Starr/Ghost become linked in the quest to solidify Ava from the Quantum effects she suffered as a child.
There is an overall theme to Ant-Man & the Wasp and that is fatherhood and how your actions affect the legacy of your name but also your relationship with your child. For Lang, it is what he does as Ant-Man and how that puts him in the eyes of his daughter, Cassie. For Pym, it is what he didn't do in the past to save Janet that now has him and his daughter Hope trying to reverse that course and build their family back together. And for Foster, it is raising Ava as his own, protecting her, and trying to help her cure her "ghosting" ability.
Just like in the first movie, the humor mixed with action sequences are still present, which-in-turn, keep things light and fun. Something duly needed after the events of Avengers: Infinity War.
The Bad
The only complaint I have is that we have to wait till February 2019 for the next MCU movie with Captain Marvel. WHY MARVEL WHY!!!!!!!!!
The Geek-for-E
If you are following plot-point rumors for the May 2019 Avengers movie, there may be some solidity to some of those rumors.
THAT post-credit-sequence will leave you wanting more! Stay through the credits as there are two credits sequences – one just after the cast listing and the other at the very end of the movie.
An ant plays drums. 'Nuff said.