TwitReview: "Furious 7" – Fast cars, fast action, Statham, Diesel, Walker, The Rock – delivering a movie that honors the franchise and the late Paul Walker.
Grade: 4 out of 5.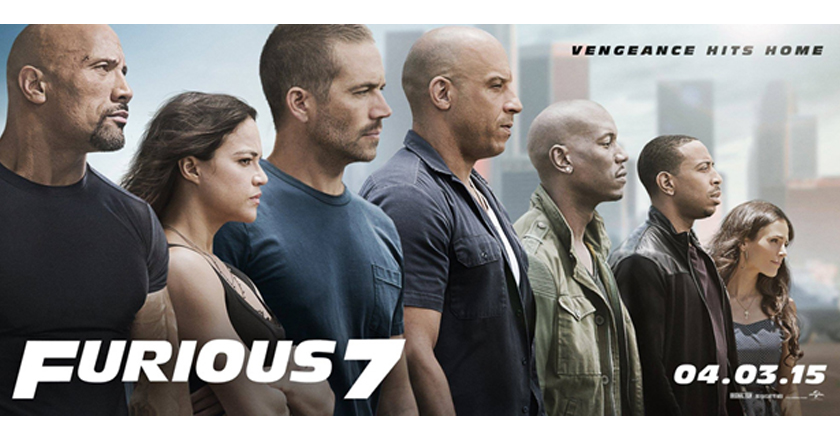 The Fast and the Furious franchise is one of legendary status. What started as a Point Break meets street car racing movie in 2001 has turned into a 800-MILLION-dollar franchise (and after the totals are in world wide this will be a BILLION-dollar franchise) with 7 movies, a diverse set of characters, and a story line that doesn't take itself too serious yet still manages to keep things grounded and not to fantastical. Furious 7 delivers on all that you'd expect and does not disappoint.
Universal Pictures, Director James Wan, and screenplay writer Chris Morgan handled Paul Walker's death in a touching way. It's no secret that the ending hadn't been filmed when Paul Walker died and the last scenes show the "real" in all the actor's faces as they talk about Brian (at this point played by Cody Walker, Paul's brother) and how full of life he is while watching him with Mia and their son Jack as they play on the beach. Yet you know that this is the real life thoughts and feelings about Paul Walker that we are hearing. Add to this the final moments shown between Torretto and O'Conner and how it plays out. I am man enough to say that I may have had a misty-eyed-moment at the end when the O'Conner/Walker montage was shown and how touching of a moment it was.
Overview:
Furious 7 is a multiplexed movie of moving parts and plots. Ian Shaw (Jason Statham) wants revenge on the people that captures his brother Owen (Luke Evans) while the US Government's shadow division headed by Mr Nobody (Kurt Russell) wants to capture Shaw and needs Torretto (Vin Diesel) and his group to assist. On top of this the Shadow group also needs to track down a hacker names Ramsey (Nathalie Emmanuel) who has been taken by a warlord named Jakande (Djmon Hounsou) so he won't get his hands on the super spy software that controls the God's Eye satellite.  And lastly we finally get to see Dom take that trip to Tokyo for that infamous last scene from Tokyo Drift  where Dom and Sean Bosewell (Lucas Black) race in honor of Han's memory.
What worked:
Director James Wan and writer Chris Morgan keep the series grounded and don't get cartoony with the action and car sequences even with the  suspension of disbelief that happens to be in any action movie. They also tie up some loose ends with Han's (Sung Kang) death in Tokyo and fully bring Tokyo Drift into the fold of the franchise.
Cars jumping out of planes!!! I was on the edge of my seat with this sequence. They team has to take their cars into a impassable road on the top of a mountain and the only way in is via air drop. I know that some will think this is far-fetched but it's not. Think about the US Arm and how they drop their equipment into war zones…or move elephants around (yup, got an Operation Dumbo Drop reference into the review). '
Speaking of cars, the sequence where they drive a car from one building into two others was intense! Let's see James Bond do that.
Just like the last installment, we got an UFC fighter making an appearance and kicking some major @ss! Ronda Rousey plays Kara, a highly trained bodyguard to a Saudi prince. And her fight sequence with Letty (Michelle Rodriguez) was up there with the fight sequence that Gina Carano had with Gisele (Gal Gadot).
Taj (Chris "Ludicrous" Bridges) and Roman (Tyrese Gibson) play off of each other and deliver the comedic relief.
I will be there when the Luke Hobbs movie opens. Dwayne "The Rock" Johnson is a bonafide action star in case you didn't know. He may only have a small part here compared to his role in the 5th and 6th movie when he had a bigger part. But when he is on screen he is larger then life. Hobbs giving Ian Shaw the ole Rock-bottom was a great thing to see! I guess Shaw smelled what Hobbs was cooking.
What did not work:
Warlords needing a super spy satellite. I didn't even know that they could get Internet.
Last thoughts:
It was surreal watching Paul Walker on screen knowing what happened to him. It was also very creepy how the script early on had the group at Han's funeral and it's mentioned that they don't want to go to any more funerals. And during the movie when you'd see Brian in an action sequence you wonder when was that shot – before he died or after and is that Cody Walker playing the part. Just some surreal things that went through my head. Again I am so glad that they did were able to honor and dedicate the movie to Paul Walker at the end and even more happy that they didn't kill of Brian O'Conner.
Rated R with a run time of just over 2 and a half hours (trust me, it moves fast) Furious 7 gives you just what you want –  a fun movie that leaves you wanting more.