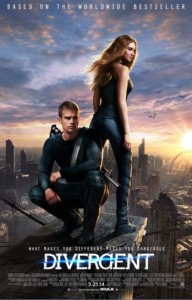 Great YA (that's Young Adult, for you muggles) fiction is all over the bookstores of late.  And Hollywood has taken notice.  Divergent, the first book in the series of the same name by Veronica Roth, is coming soon to a theater near you.  And we have passes for the Baltimore screeing!
Wanna know what it's about?  Here's the PR 411:
DIVERGENT

Starring SHAILENE WOODLEY, THEO JAMES, JAI COURTNEY, RAY STEVENSON, ZOË KRAVITZ, MILES TELLER, MAGGIE Q, TONY GOLDWYN,ASHLEY JUDD, ANSEL ELGORT, MEKHI PHIFER, BEN LAMB, BEN LLOYD-HUGHES, CHRISTIAN MADSEN, AMY NEWBOLDand KATE WINSLET

SYNOPSIS

DIVERGENT IS A THRILLING ACTION-ADVENTURE FILM SET IN A WORLD WHERE PEOPLE ARE DIVIDED INTO DISTINCT FACTIONS BASED ON HUMAN VIRTUES. TRIS PRIOR (SHAILENE WOODLEY) IS WARNED SHE IS DIVERGENT AND WILL NEVER FIT INTO ANY ONE GROUP. WHEN SHE DISCOVERS A CONSPIRACY BY A FACTION LEADER (KATE WINSLET) TO DESTROY ALL DIVERGENTS, TRIS MUST LEARN TO TRUST IN THE MYSTERIOUS FOUR (THEO JAMES) AND TOGETHER THEY MUST FIND OUT WHAT MAKES BEING DIVERGENT SO DANGEROUS BEFORE IT'S TOO LATE. BASED ON THE BEST-SELLING BOOK SERIES BY VERONICA ROTH.

DIVERGENT WILL BE RELEASED IN THEATERS AND IMAX ON FRIDAY, MARCH 21, 2014

Official Website:http://DivergentTheMovie.com/

Facebook: https://www.facebook.com/Divergent
And now, how to get a pair of passes for yourself?  Read on….