Angelina Jolie has a love for the, well, complicated ladies.  Evelyn Salt (glad to see there's a Salt 2 in the mix), The Tourist's Elise, Grendel's momma in Beowulf, and of course her Oscar-winning turn as Lisa in Girl, Interrupted.  She's upping the evil as Sleeping Beauty's nemesis in Malificent.
Gotta say that I was amazed and scared pantsless by this particular witchy queen.  Best evil hairdo ever?  yeah, you better believe it.  Plus, she could transform into one badass dragon; that's pretty top-notch.
Read on for the details!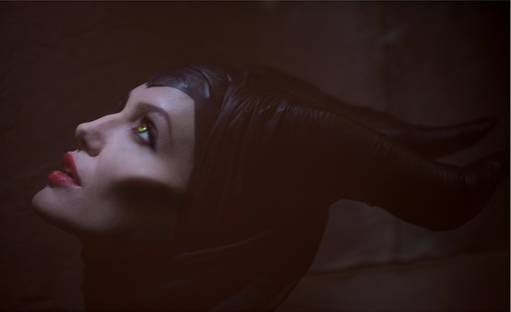 From the press release:
DISNEY ANNOUNCES START OF PRODUCTION ON "MALEFICENT"

ANGELINA JOLIE STARRER SET FOR MARCH 14, 2014 RELEASE

Burbank, CA  (June 19, 2012) – The Walt Disney Studios announced today that production began Wednesday, June 13th, on "Maleficent," starring Academy Award®–winning actress Angelina Jolie.

Directed by two-time Oscar®-winning production designer Robert Stromberg ("Avatar," "Alice in Wonderland"), in his directorial debut, and produced by Joe Roth, "Maleficent" is written by Linda Woolverton ("The Lion King," "Beauty and the Beast") and executive produced by Angelina Jolie, Don Hahn, Matt Smith and Palak Patel.

Co-starring in the film are Sharlto Copley ("District 9"), Elle Fanning ("Super 8"), Sam Riley ("On the Road"), Imelda Staunton ("Vera Drake"), Miranda Richardson ("The Hours"), Juno Temple ("Atonement") and Lesley Manville ("Secrets & Lies").

This is the untold story of Disney's most beloved villain, Maleficent, from the 1959 classic "Sleeping Beauty." The film reveals the events that hardened her heart and drove her to curse the baby, Aurora.

Behind-the-scenes talent includes Academy Award®–winning cinematographer Dean Semler ("Dances with Wolves," "In the Land of Blood and Honey"), production designer Gary Freeman ("Saving Private Ryan," "The Bourne Supremacy"), two-time Oscar® nominated costume designer Anna B. Sheppard ("Schindler's List," "The Pianist") and seven-time Academy Award–winning makeup artist Rick Baker ("Planet of the Apes," "Men in Black").

"Maleficent" is scheduled for a March 14, 2014 release in 3D.
After getting sucked into the Evil Queen's backstory in television's Once Upon A Time, I can't wait to see what Disney has in store for us with this origin tale.  Please tell me we'll be seeing some form of that awesome dragon transformation in 3D!